Learn with the best
Your nursing qualification from Massey will be globally sought after – we're ranked in the top 150 nursing schools in the world.
Hands-on experience
Massey's state-of-the-art teaching facilities include simulation hospital suites and empathy labs to practise key nursing skills.
Personalised to you
Our health courses at Massey feature small class sizes with a learning environment customised to your interests and needs.
Striving to be Tiriti-led
We work to uphold the principles of te Tiriti o Waitangi – and to empower all New Zealanders, especially Māori.
Overview
Become a highly skilled nurse. We can help — we've been doing it for decades, and rank in the world's top 150 universities for nursing.
Learn from experienced nurses and nursing researchers with expertise such as acute care, primary care, Māori health or mental health. Master new skills in state-of-the-art nursing simulation facilities. Gain empathy for the people you will treat and support. Graduate work-ready and eligible to register as a nurse, with qualifications recognised nationally and internationally.
Nursing is a good fit if you:
enjoy school subjects such as health, sciences and social sciences
want to work with people and make a difference in their lives
like balancing compassion with critical thinking and problem-solving.
Nursing courses cover:
children's nursing, also called paediatric nursing
clinical skills, including for emergency, mental health and primary care (GP and community clinics)
Māori health, including partnering with tangata whenua and upholding Te Tiriti o Waitangi
patient-centred care and partnerships
professional and clinical leadership in nursing
hands-on practice sessions to use clinical skills in real-world scenarios.
Māori health draws together four dimensions of wellbeing — taha tinana (physical health), taha wairua (spiritual health), taha whānau (family health) and taha hinengaro (mental health).
How to study nursing
Discover what we offer if you're interested in nursing – whether you're coming to university for the first time, changing direction or returning to advance your study or career.
Undergraduate study
An undergraduate qualification is generally the first thing you'll study at university.
Bachelor's degrees
Degrees are the standard qualifications you do at university – the most common is called a bachelor's. Degrees give you enough time to explore your interests, and also focus on specific subjects.
Make a difference in someone's life every day. Nursing offers diverse employment positions, and many options for professional development and postgraduate study.
Postgraduate study
Once you've graduated with a bachelor's degree – or have equivalent experience – you'll be ready to take on postgraduate study.
What our students say
"°ÄÃÅ¿ª½±ing nursing at °ÄÃÅ¿ª½± has exceeded my expectations. I thoroughly enjoyed my time at Massey and feel that Massey has pushed me to reach my full potential, preparing me well to work as a Registered Nurse."

"I saw a need for others like me, mature, Samoan, male, to join the nursing workforce in the mental health area to help others, especially the Pacific community both here in New Zealand and overseas. I chose Massey because it allowed me to work while studying."

Wayne Shum-Kuen-Ip
Samoan
"I thoroughly enjoyed my time at °ÄÃÅ¿ª½± and am thankful for the many relationships I developed along the way, the wider network of health professionals I engaged with, and the opportunity to be involved with Massey after graduating."

Siobhan Hennessy
Ngāti Kahungunu
Our facilities
You'll have access to a wide range of first-class facilities when you study with us.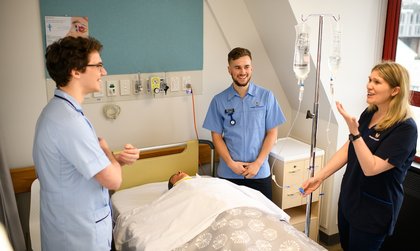 Nursing simulation suites
Suites include:
mock hospital settings
two-way observation spaces
standard nursing equipment for hospital and community work.
Students learn and practice nursing skills through case studies and simulations using actors, interactive manikins and real-time body camera recordings.
Location: Manawatū and Wellington campuses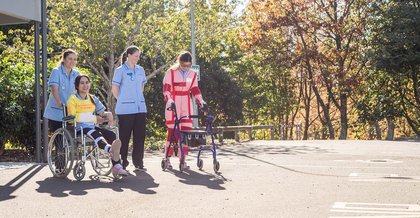 Empathy Lab
Empathy is a key aspect of healthcare. But when you're fit and healthy, it's not always easy to understand the impacts of long-term illness or ageing. Nursing students wear special suits that mimic what it's like to do daily tasks after suffering a stroke, or being restricted by declining health.
Location: Auckland, Manawatū and Wellington campuses
Jobs in nursing
Nurses support people, families and communities to improve health and wellbeing, using scientific knowledge and strong communication and critical thinking skills. Nursing is a career covering all areas of healthcare, such as intensive care, community mental health, aged care, and child health.
Experienced nurses can complete extra education to specialise in specific health conditions, such as cancer, or move into clinical leadership, health management or research.
Nursing careers include:
registered nurses
charge nurses, who manage wards
clinical nurse educators, who work in clinics and hospitals to develop the team's skills and knowledge
clinical nurse specialists
nurse prescribers
nurse practitioners, with advanced education and clinical training — some own or co-own healthcare clinics
nurse researchers, who conduct clinical trials.
Becoming a nurse
Become a registered nurse with Massey's Bachelor of Nursing — or our Master of Clinical Practice (Nursing) if you already have an undergraduate degree in any discipline.
Both degrees are recognised nationally and internationally and approved by the Nursing Council of New Zealand. After graduation, you can apply to be a registered nurse.
As part of our degrees, nursing students do at least 1,100 hours of clinical practice in areas such as emergency, mental health, primary care or surgical services.
Registered nurses usually earn $54,000 to $130,000 a year.
Leadership in nursing
Postgraduate study at Massey prepares you for clinical leadership roles such as prescribing nurse, clinical nurse specialist or nurse practitioner, or roles such as nurse manager or nursing researcher.
Depending on your area of practice or career goal, courses may cover:
advanced clinical skills and projects — examples include children's health, emergency care or mental health
leadership
prescribing courses such as physiology and clinical pharmacology
research projects.
To become a nurse practitioner, here are the steps involved:
1
Be a registered nurse with at least four years' practice experience in your area of expertise.
2
Complete the Master of Nursing, including a prescribing course which combines online learning, supervised practice, and workshops.
3
Register as a nurse practitioner with the Nursing Council.
Which nursing qualification?
Examples of where our qualifications may take you.
Table showing jobs and what you could study to enter them.

| Jobs | Examples of what you could study |
| --- | --- |
| Registered nurse | Bachelor of Nursing Master of Clinical Practice (Nursing) if you already have any undergraduate degree |
| Nurse practitioner | Master of Nursing |
| Specialist, prescriber or leadership nursing roles | Master of Nursing |
| Researcher or policy expert | Master of Health Science (Nursing) |
Accreditations and rankings

Nursing Council of New Zealand
Our nursing qualifications are nationally and internationally recognised and approved by the Nursing Council of New Zealand. Upon completion you can apply for registration as a registered nurse with the Nursing Council of New Zealand.
QS Ranking - Nursing
Massey nursing is ranked in the world's top 150 universities by Quacquarelli Symonds (QS).
ShanghaiRanking - nursing
°ÄÃÅ¿ª½± is ranked in the top 150 universities in the world and second in New Zealand in the subject area of nursing by the ShanghaiRanking's Global Ranking of Academic Subjects.
Get an information guide
Download our guide to find out more about studying nursing at Massey.
Search courses or qualifications